Advanced PC Cleanup main functions:
Advanced PC Cleanup shows the current state of your Windows PC in one scan. This includes all junk & temporary files along with the areas needed to be taken care of. It shows storage space you can free up. Scan for malware and saved information to secure your identity and system at the same time.
1. Scan PC for all clutter
Scan will show how much storage space can be recovered from deleting all the unused files & old downloads. Clear up the personal information saved on the web browser.
2. One-click solution
Fix all issues such as PC cleanup and boost performance in one click. Remove malware, adware to save system from any potential threats to data.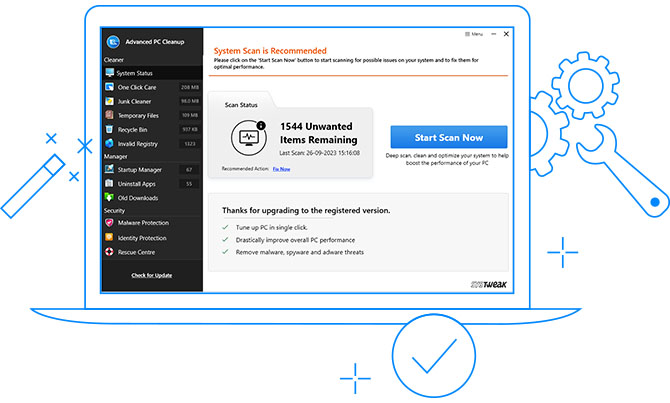 Keep your PC Clean & Secure
PC Cleaner

Deletes temporary files and clears trash from Recycle Bin on your PC.
System Manager

Manage the list of startup programs and improve the speed of your PC.
PC Security

Make sure your computer is safe from online threats & malware attacks.
System Optimizer

Clean up all the junk from your computer to improve the performance.
Amazing Features
PC Cleaner
System Manager
PC Security
System Optimizer
Free Essentials Or Ultimate Protection?
Choose what is right for you
| | | |
| --- | --- | --- |
| | | Recommended |
| Advanced PC Cleanup - Features | Advanced PC Cleanup Free Version | Advanced PC Cleanup PREMIUM |
Cleaning

Remove junk, unwanted files and recover disk space

Limited

Startup Manager

Improve startup speed by disabling unwanted programs.

Uninstall Programs

Remove redundant programs you don't use to boost speed.

Old Downloads

Scan for unwanted files that might take up space on disk.

Invalid Registry Scan

Fix any issues and invalid entries in Windows Registry.

Limited

Identity Protection

Remove browser history to protect personal details from hackers.

Limited

Malware Protection

Remove malicious software, infected files, trojans, spyware & adware.

Limited

60-Days Money Back Guarantee 100% Risk-Free.

Your Satisfaction is everything for us. If you are not sure about the product, contact us within 60 days of purchase and we will process a refund against the purchase.

US$ 69.95

US$ 39.95

Buy Now

Single PC License